Strong demand for natural non-toxic products has many manufactures adopting certified standards to let customers know how green and safe their mattresses are. But some certifications are more meaningful than others – and may only address one layer in a mattress. Genuinely safe and non-toxic mattresses typically have several certifications for all layers and components in the mattress.
---
5 Common Mattress Certifications
---
CertiPUR-US
CertiPUR-US is an organisation set up by the polyurethane foam industry for the polyurethane foam industry. 
Foam products displaying its logo do not contain chlorofluorocarbons, PBDE flame retardants, mercury, lead, heavy metals, formaldehyde and some phthalates.
CertiPUR-US certified polyurethane foams are much better than foams without the certification but doesn't mean the mattress is necessarily healthy or eco-friendly.
Polyurethane is still a synthetic petrochemical and best avoided if your after a 100% natural and non-toxic eco friendly mattress.
---
GOTS – Global Organic Textile Standard
Global Organic Textile Standard (GOTS) is an international organisation setting standards for the processing of organic fabrics.
The GOTS standard oversees everything from production and manufacturing, through to packaging and distribution.
GOTS itself does not regulate the growing of organic crops, but does dictate that products called "organic" must contain a minimum of 95% organically grown fibre, and products labelled "made with organic" must contain a minimum of 70% organically grown fibre.
No Dyes with amine compounds
No Heavy metals
No genetically engineered fabrics
No formaldehyde, aromatic solvents, phthalates and PVC
No Polyurethane
No child labour
Living wage for employees
Responsible treatment of wastewater
Residue testing
GOTS certification also requires that the entire supply chain complies with GOTS standards. This is a highly regarded standard.
---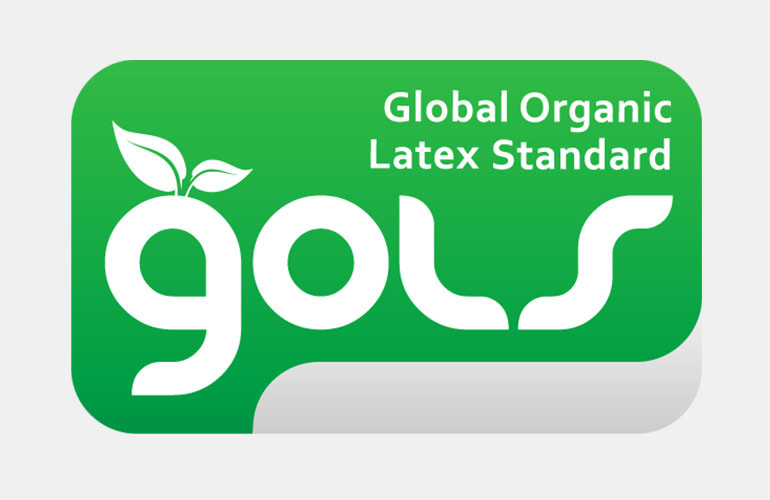 GOLS – Global Organic Latex Standard
The Global Organic Latex Standard sets standards for organic latex production.
The entire supply chains considered – high standards are set for the environment, workers, farmers, manufacturers and retailers.
Ensures a living wage for workers with reasonable work hours
No child labour
No chemical fertilisers or pesticides
Mattresses displaying GOLS certification must contain no less than 95% certified organic latex and there are strict rules as to what the remaining 5% may contain with no allowable toxic chemicals. (all raw latex must include some kind of thickener to be turned into foam)
⋅
---
Confidence In Textiles
Established in 1992, the OEKO-TEX STANDARD 100 claims all certified products are harmless to health by restricting and limiting the use of various chemicals.
Banned substances include but are not limited to:
Formaldehyde
Pesticides
Heavy metals
AZO and carcinogenic dyes
Brominated flame retardants
Chlorinated Phenols
Phthalates (in baby products)
Organotin compounds (TBT) and (DBT)
Annual independent lab tests on all certified products cover ALL elements used in a certified product, including zips, threads, buttons, prints and coatings. Be sure that the product your buying has up to date certification.
---
Eco Institut
The Eco Institut is a highly regarded German based organisation conducting emission testing on products to the highest standard.
This organisation certifies products as a whole which ensures the entire mattress is safe – not just one part of it.
They only certify products which don't off-gas or contain residues of harmful chemicals.
This is a voluntary certification which companies can choose to apply for. To be accepted products have to undergo rigorous lab testing.
If you see the Eco Institut label you can be sure the entire product is safe and goes above and beyond meeting legal requirements.
---
Summary
Most certifications only deal with specific components within the mattress. Ideally, a genuinely natural mattress will have various certifications to address its different layers.
Look for what components of the mattress have been certified. The mattress cover might meet OEKO-TEX STANDARD 100 standards – but the inner structure could be made from toxic low quality foam.
Many mattress manufactures are trying to pass off their products as healthy non-toxic alternatives by using certifications when in fact only a small fraction of the overall product is safe.
---